Well don't I feel like an idiot. I've been sitting here talking about how little you can learn during an open practice in spring that parades around under the guise of a spring "game." I was wrong. I came away from Friday's spring game with far more answers than I ever would have imagined. Unfortunately, they aren't all good answers.
No, if I learned nothing else on Friday, it was that the offense could be in trouble. Like, a lot of trouble. We all know Iowa is a run-first team, no matter how many times the Ferentzi declare they would ideally be 50-50 in the run and pass games. To establish the run, it all starts up front. That's been the bread and butter of the foundation the elder Ferentz has built here and it's been fairly dependable. This year?
"No matter what, we could come in here and tell you guys, 'It's all going great,' you know what I mean? It's not. It's never good enough. The improvement isn't happening fast enough."

- Tim Polasek, Offensive Line Coach
Welp.
We've all thumbed through the two-deeps looking for information on who's replacing the big names who are departing the 2017 version of the Hawkeyes. Most of the attention has been focused on guys like Joshua Jackson and Josey Jewell. Perhaps we should be paying more attention to the loss of guys like James Daniels and Sean Welsh.
The 2018 Hawkeyes will be trotting out a pair of sophomore tackles and an interior line that's 2⁄3 brand new and without perhaps the most athletic center to ever play here. Oh, and the run game loses the top two backs on the depth chart and now boasts a two deep with only sophomores, a third stringer who's a RS freshman and a fourth string back who has never played the position. That's it. That's the entire roster of RBs.
Fortunately, Iowa has always boasted a plethora of talent at receiver.
Wayne'sWorldNot!.gif
Seriously, if this offense has to rely on the passing game it's going to be a looooong year. The most dependable returning receiver is a JUCO walk-on. He's surrounded on the depth chart by a trio of sophomores, one of which barely saw the field last season on special teams and another who's most remembered for dropping passes and fumbling.
It showed Friday. Iowa was without star tight end Noah Fant, as well as Nick Easley (the aforementioned former JUCO walk-on). Oh, and transfer addition Kyle Groeneweg. Without them, the pass game looked as bad as it sounds. Stanley went 7-14 for a measly 72 yards. Unofficially.
He also unofficially still can't find a receiver on the long ball. Oh, and he officially threw 33% of the total number of interceptions he threw in the entire 2017 season in 14 passing attempts.
It was bad enough most people walked out of Friday night talking much more about the potential of backup QB Peyton Mansell than anything from the first thing. That's right, only a few months after tying Chuck Long's touchdown record, Iowa fans are ready to anoint the backup as the best QB on the roster.
When it was all said and done, the first, second and third string offense couldn't muster a single touchdown. The only one of the night came on the very last play of the practice from 4th string QB Ryan Schmidt to walk-on WR Dominique Dafney.
Thank God punting is winning.
Oh wait, the punting situation may actually be worse than the offense. Yes, it's possible. We all know things weren't great a year ago. They aren't better yet. I don't think they'll be better by September 1st.
This team is going to have to rely on its defense just to stay in games based on what we saw Friday. And remember all those key contributors who departed? Yeah, a bunch of them played defense.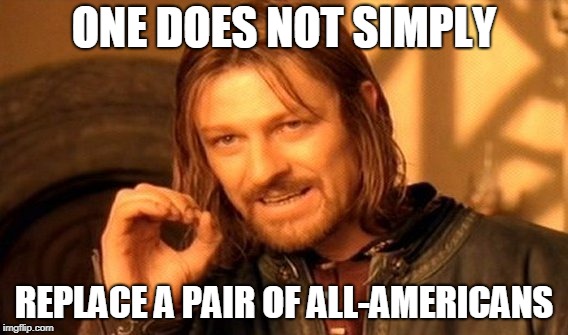 All three starting linebackers are gone, including All-American Josey Jewell. Nathan Bazata is gone from the defensive line. All-American and rightful Thorpe Award winner Joshua Jackson is gone in the secondary. And just when Hawkeye fans were starting to get hopeful we learned that a frontrunner for a starting LB job, Aaron Mends, is out indefinitely with an undisclosed but "significant" injury.
Why can we never have nice things?
Because we're Iowa, that's why. We will never have the nice things. Ever.
You know who will? Nebraska. Nebraska sold out their stadium for a spring game the day after Iowa couldn't even fill a fraction of their smaller stadium, despite having the north endzone off limits! Iowa will never have that kind of fan engagement and with the return of hometown hero Scott Frost, I fear it will be a long, cold winter for Hawkeye fans.
Speaking of the north endzone, the revamp looks like it will be horrendous. Not only does it reduce capacity, it totally changes the character of historic Kinnick Stadium. Since when do we have second decks in Iowa City?
And that monstrosity is so far up it's going to block the view of a historic landmark: the water tower.
I assume that's the only reason Gary Barta allowed the thing to be painted finally, nobody will be able to see it. That and the fact it's going to be torn down in a few years to make way for another tower at UIHC.
We. Can't. Have. Nice. Things.
Iowa can't even get the wave right. I mean seriously, it's been a wonderful tradition, but waving after the first quarter of the spring game, when it isn't actually a game and there aren't actually four quarters? Come on.
[Removes tongue that had been planted as firmly into cheek as humanly possible.]
In all seriousness people, there wasn't much to glean from the spring game. The defense looked good, but that's what you expect in the spring when the offense is still installing things and finding their timing and rhythm. Stanley had some misfires, but we saw enough from him last year to feel pretty confident in his abilities. If anything, Hawkeye fans should feel pretty good knowing backup Peyton Mansell looked pretty solid and true freshman Spencer Petras flashed the physical tools to be very good down the road.
There are question marks along the line, but there are always question marks when you lose guys to the NFL. If we've learned anything in Kirk Ferentz's 19 offseasons at Iowa it's that he will have the offensive line in a good place come fall.
The running game, wile lacking depth, shows a really good 1-2 punch with Toren Young and Ivory Kelly-Martin. The ability to balance that with perhaps the nation's best tight combo with Fant and TJ Hockenson (and a couple of very good players behind them as well) and a WR group that continues to get better and I think the offense should be OK.
The Wave is still great and THEY ARE PAINTING THE WATER TOWER!
At the end of the day, there are things to clean up. The team needs to take it one day at a time and continue to improve. That's football.
Oh, and Nebraska can sell all the damn tickets they want to a "spring game," they're still a bunch of has-beens who have lost four of the last five, including three straight to the Hawkeyes and they're vaunted black shirts have given up nearly 100 points in the last two meetings against Iowa's offense.
They are our new little brother.
Happy Monday people. It's finally feeling like spring so be sure to treat the spring game in kind. It's not a game and it's still 131 days until football season. Go Hawks.