Fran? Can you step into my office, please? We need to talk.
Hmm? Oh sure, Gary.
Mr. Barta will be fine thank y--
/withering stare
Uh, right.
/clears throat
Right. So it's about these new rules the NCAA is talking about.
The ones about the on-court decals? Are they going to kill Mediacom Court?
Ha! As if they could ever destroy such a glorious institution and wonderful, consumer-friendly product!
No, Mediacom Court will be just fine. In fact, the boys in Des Moines tell me they have some exciting new ideas about holograms...
Unless that hologram features Sharm Scheuerman taking a dump on a Mediacom logo, I don't care.
Uh, probably not. Your knowledge of Iowa basketball history is incredible, though. Todd just kept watching "Hoosiers" on a continuous loop. ANYWAY --
-- it's about their crackdown on coaching "antics," Fran.
WHAT?
They want to outlaw the "Wrath of Fran."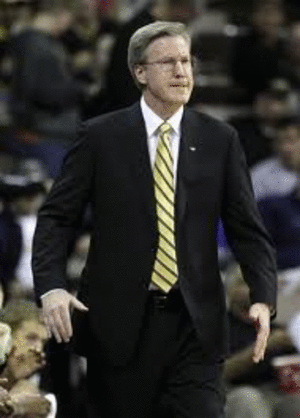 THIS IS A GODDAMN OUTRAGE.
IT'S MY GODDAMN RIGHT AS AN AMERICAN TO BITCH OUT INCOMPETENT REFEREES AND TELL THEM WHAT A BUNCH OF COMPLETELY SHIT-BRAINED ASSCLOWNS I THINK THEY ARE.
I MEAN, DON'T GET ME WRONG -- IT'S FLATTERING AS HELL THAT THEY'RE GOING OUT OF THEIR WAY TO CHANGE THE RULES BECAUSE OF ME. BOBBY THREW A CHAIR AND CHOKED A BITCH AND THEY NEVER DID ANYTHING ABOUT IT.
SUCK IT, KNIGHT!
Well, they said it's bad sportsmanship and they want to clean that up, so --
/dismissive wanking motion
THEY CARE ABOUT "SPORTSMANSHIP" WHEN IT'S CONVENIENT FOR THEM AND NOT A SECOND LONGER.
YOU KNOW WHAT ELSE ISN'T VERY SPORTING? ED HIGHTOWER PRANCING AROUND LIKE A GODDAMN SHOW PONY. ARE THEY OUTLAWING THAT TOO?
Uh, I don't think so.
COLOR ME SHOCKED.
Right. My source in the NCAA office also said it was a safety issue.
SAFETY?
Yeah. I think they're afraid you might snap and do this to Ed.
NONSENSE. I'D USE MY BARE FISTS TO TEACH HIM SOME RESPECT.

(all apologies to Horace and storminspank, who made the original images used here)
Um...
OR A CHAIR.
Speaking of that... he also said they're concerned about escalation.
ESCALATION?
Yeah. Like this.
Or this.
NONSENSE! THAT'S RIDICULOUS! SERIOUSLY, DON'T THEY KNOW MOST OF THE CHAIRS IN THE ARENA ARE BOLTED DOWN? I KNOW, I'VE CHECKED.
Don't mention that to them. Please.
SO WHAT'S THE ENDGAME HERE, GB?
Well, no more chair-throwing. That's done.
FEH. SO MUCH FOR GIVING OL' EDDIE A ONE-MAN CONCHAIRTO NEXT YEAR.
No more getting escorted from the arena by cops.
I CAN'T HELP IT IF CEDAR FALLS IS FULL OF WANKERS.
And just... tone it down with the yelling and the wild gesticulating and whatnot.
THIS IS SUCH FUCKING BULLSHIT.
NOT ONLY IS IT REPRESSING MY FREEDOM OF EXPRESSION, IT'S GODDAMN UNNATURAL.
WOULD YOU TELL THE HUMMINGBIRD TO FLAP ITS WINGS MORE SLOWLY?
WOULD YOU TELL THE LION TO ROAR MORE QUIETLY?
WOULD YOU TELL THE VELOCIRAPTOR TO DISEMBOWEL ITS PREY MORE GRACEFULLY?
...
Sometimes I miss Todd.
- fin -
(And, of course, thanks to HFMR for a few of the images in the "Wrath of Fran" .gif up above, too.)