Wha Happened? is the weekly round-up of the rest of the games that were in the Big Ten -- you know, the ones that were going on while you were shotgunning that beer, or watching Iowa, or sleeping off that early-morning tailgating.  Who won?  Who lost?  Who made us quiver with fear?  Who made us laugh hysterically?  In short... Wha Happened?  
WIN
Michigan State 37, Wisconsin 31
Kudos to Michigan State.  They won a third-straight intense and emotional game against a quality team, something that not many folks outside of Spartyville thought possible.  And they did it in the most spectacular fashion possible, with the sort of breathtaking walk-off win that will be talked about by college football fans for years.  Walk-off wins are special in any sport, but especially so in football, where they are rare -- and they don't get much better than this one. Kirk Cousins exorcised some big game demons with the best performance of his career (22/31, 290 yards, 3 TD, 0 INT), inserting himself into the conversation of "Best Quarterback In The Big Ten."  They were fully deserving of the win and deserve to enjoy their moment in the sun.
But -- and there's always a but, right? -- it would be a mistake to say that they dominated Wisconsin.  Their defense has been the backbone of their team, but even though they held Wisconsin below their (admittedly outrageous) season averages, they certainly didn't shut down the Badgers to anywhere near the extent that they did Michigan or Ohio State in prior weeks.  Wisconsin had over 400 yards of offense, including over 200 yards on the ground at a healthy 5.4 ypc.  Russell Wilson had his worst day of the season (14/21, 223 yards, 2 TD, 2 INT; 8 rushes, 30 yards, 1 TD), but still wasn't awful.  Wilson might not be the key to the Badger offense, though -- it might be Montee Ball.  Michigan State struggled to stop Wisconsin when Ball was on the field (all four of their touchdowns came on drives featuring Ball), but had much more success when concussion-like symptoms kept him on the sideline.  Sparty also got a great day in the special teams department, with a blocked field goal and a blocked punt returned for a score (they were also able to turn an excellent punt into a safety).  They deserved to win on Saturday, but it certainly wouldn't be insane to think that Wisconsin might win a rematch on a neutral field.  
Finally, a few notes on Bielema's use of timeouts on the final drive.  He's gotten considerable criticism for it, but it really seems unfounded.  Obviously, with the benefit of hindsight, he would have been better off taking his chances in overtime... but hindsight makes everything easier.  He used his first timeout after a sack had made it 2nd and 20 at the MSU 24.  It's hardly unreasonable to think that they might be able to get the ball back in that situation; I'd wager that most coaches with a halfway decent defense think that they'll be able to force a punt two plays after 2nd and 20.  If they had done that they would have gotten the ball with around 25 seconds left and a chance to win the game in regulation, with an offense that had just burned down the field on two scoring drives.  
Michigan State's 12-yard gain on 2nd down made using a timeout before 3rd down a little less obvious -- at that point, Bielema might have been better off pocketing his timeout and hoping for overtime, although 3rd and 8 is certainly not an easy conversion.  (There's also the very real possibility that Michigan State might have used a timeout of their own anyway; they had two left and Dantonio certainly has no problem being bold at the end of a game.)  Wisconsin's biggest problem on that drive wasn't Bielema's use of timeouts -- it was the fact that after that sack early in the drive, the Badger defense couldn't make any stops.  And even then they still only lost in regulation because Michigan State converted a 1 in a 1,000 play that somehow managed to avoid a a single Badger while ricocheting off a pair of Spartan players before landing in Keith Nichol's hands.  
PLACE
Purdue 21, Illinois 14
I guess we should have known that it's impossible for Illinois to go a year without suffering a proper Zooking. Losing to Ohio State was one thing (even if it was at home and Ohio State completed one goddamn pass), but losing to Purdue?  Come on now, Illinois.  That's just foolish.  Purdue opened up a 21-0 first half lead and simply held on; Illinois mounted a late charge with two fourth quarter touchdowns, but waiting until the fourth quarter to get on the board proved to be costly.  Caleb TerBush provided most of the offense for the Boilermakers (16/25, 178 yards, 2 TD) and outplayed Nathan Scheelhaase on the day; Scheelhase went just 22/25 for 217 yards and 0 TD and added only 16 yards and 1 TD on the ground.  That's a far cry from the sort of productivity he was giving them during Illinois' 6-0 start.  Now Purdue has a road map to a bowl berth (beat Indiana and knock off Michigan, Wisconsin, Ohio State, or Iowa) and Illinois has the potential for complete meltdown (Their next three games? At Penn State and at home against Michigan and Wisconsin.).  It wouldn't be November with Ron Zook on the hot seat, right?
SHOW
Penn State 34, just Northwestern 24
After an usually high-scoring first half for a Big Ten game (27-24 Penn State), things settled down into a more familiar routine of punts, punts, and more punts in the second half as Penn State secured JoePa his 408th career win, tying him with Eddie Robinson for the most all-time.  Northwestern was able to threaten Penn State just twice in the second half: on the first drive of the half they took the ball deep into PSU territory before an untimely Persa interception was returned over 60 yards (setting up PSU's game-clinching touchdown); later they drove inside the PSU 20, only to have back-to-back big sacks turn 2nd-and-6 at the PSU 13 into 4th-and-34 at the PSU 41.  Persa had pretty solid passing numbers (26/34, 294 yards, 1 TD, 1 INT), but his continued lack of mobility was reflected in his poor rushing numbers (10 carries for 9 yards) and the multiple times Penn State sacked him (which is reflected in those rushing stats, too).  Meanwhile, the sad news is that Mattbert McGLOLden may be dead; at least for one week it was only the Ginger Avenger running the show for Penn State.  McGloin had the sort of numbers you might expect someone to put up against the horrific jNW pass defense: 17/26, 192 yards, 2 TD, 0 INT. Really, this game was most notable for proving that purple drank can be captured in football uniform form.  
Finally, we turn to this week's installment of How Low Can Minnesota Go?
Nebraska 41, Minnesota 14
Let's accentuate the positives for the beleaguered Gophers.  They only gave up 41 points, which is an improvement on the 45 (Purdue) and 58 (Michigan) points that they gave up in earlier Big Ten games.  They actually outscored Nebraska in the second half (14-7).  Hell, the fact that they scored points at all is an improvement from their last efforts against Nebraska (they lost 48-0 and 56-0 in their last two games with Nebraska).  So hooray for progress.  On the other hand, all that progress really amounts to is removing a "really" off the list of adjectives describing how bad they are.  They might now just be "really really really bad" instead of "really really really really bad."  They are a truly abysmal football team right now.  Fortunately, that awfulness also means they are a very amusing team: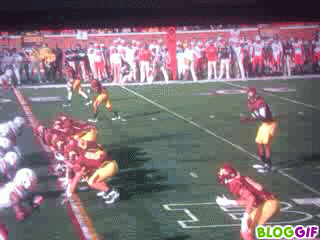 H/T to commenter josephacampbell for that little gem.  
Please don't ever change, LOLphers.
NEXT: Sparty and Big Red rumble for superiority atop the Floyd division; Wisconsin tries to regain their mojo in Columbus; the Fightin' Zooks try to halt their free-fall with a trip to Happy Valley; OMHR tries to claim another Top 25 scalp when they head up to Michigan; and tries to avoid full dumpster fire by grabbing a win over lowly Indiana.  Oh, and Iowa goes for #ALLTHEBACON.  #FREEFLOYD, dammit.