So I'm zipping crawling along on I-90 Westbound on my way to work this morning and I have the following stream of thoughts that I have conveniently captured for you via the magic of Kodak.
Heh, Sparty must have missed his exit. I just passed the 90/94 split that he should have taken if he wanted to get to the nearest Supermax.
Hmm, what's that spot on the pavement there?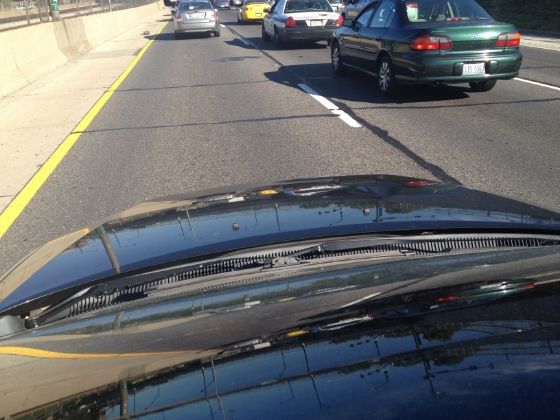 Whoa, wait. Is that?
It couldn't be.
It is! ENHANCE! ZOOM IN!
So there you have it. One of the most recognizable college emblems (could you even tell if a block "I" was for Illinois?) has found its way to blanketing a Chicago freeway with its beauty. Bless you, whichever BHGPatriot of the BHGRoadcrew you are. You're doing beautiful work. Seriously, nice work to get it looking so good in the medium of tar.
NOTES:
1) No, this is not the first time I've noticed the Tigerhawk there, I knew exactly where to start taking pictures with my hand out the sun roof. I just told the story that way for effect.
2) Traffic was traveling at approximately 0.5mph during this, as it always does on Chicago "freeways" during my commute, so I was not endangering anybody
3) You too can easily find this magnificent artistry of the hot mop, just get in the far left lane of I-90W right after the 90-94 split. You can see from the pics that it is exactly at mile marker 84.27
4) The very next exit is for Koreatown. Coincidence? You decide.
5) The Sparty vehicle ahead of me was a happy coincidence of timing to go with the recent PSD 6-4 article and Ross's sitdown with The Only Colors. Really though, fuck Sparty.