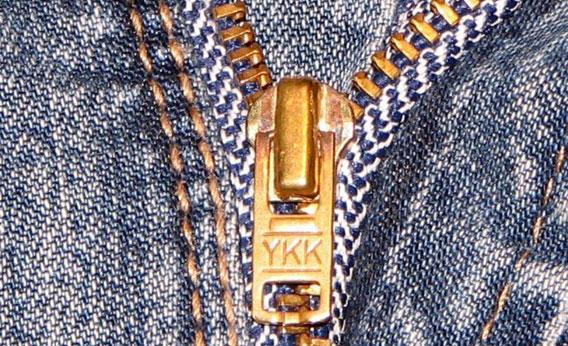 Have you ever noticed that a lot of your zippers on clothing have the label "YKK"? I did, so I looked it up. I thought it was going to be some remnant of garment manufacturing past, carried forward in a sense of tradition similar to the Wilhelm Scream or the greek-restaurant coffee cup that is used in seemingly every TV show/movie set in New York but may not actually exist in real life. But I was wrong, and the story behind YKK zippers is pretty fascinating*. There are several good articles out there that I read, but this Slate article is the best of the bunch. Some quick highlights:
1) YKK stands for Yoshida Kogyo Kabushikikaisha (which roughly translates as Yoshida Company Limited), eponymously named for its Japanese founder, Tadao Yoshida.
2) YKK makes over half of all zippers manufactured each year, more than 6 billion zippers each year for revenues over $2B.
3) YKK's has over 100 factories in 71 countries, but by far the largest is in Macon, Georgia where thousands of Americans manufacture 7 million zippers a day. Reverse outsourcing!
4) YKK holds its near-monopoly on zipper manufacturing through very old-school means: They make the best product available, no Chinese knockoffs come close to delivering the reliability in this 25-cent item that can render a $100 garment useless when it fails
5) YKK does not want you to know how successful they are. They never advertise and don't do any publicity. So now that you know some things about them, you might want to watch your back. You've been warned.
Anyway, just wanted to throw something out there because Hamsterdam got blown out over the weekend. Have fun Hamsterdamming, all!
*Yes, I find these things fascinating. YMMV.