(Bump for, among other things, the return of the (Casey) Mac! -- RB)
Sorry that I'm just now posting this.  I wanted to get it done last night, but after Mrs. HeartFreeDumb got home from the Iowa Hawkeyes Ladies' Football Academy I had to put on my old jersey and give her the old Hawkeye workout.
And then there was that whole Father's Day thing that pushed back the deadline, but here I am to forward on the happenings from Camp Kinnick.
First they took the game day ride in on the team bus, with host Cannondick von Murderstein Casey McMillan.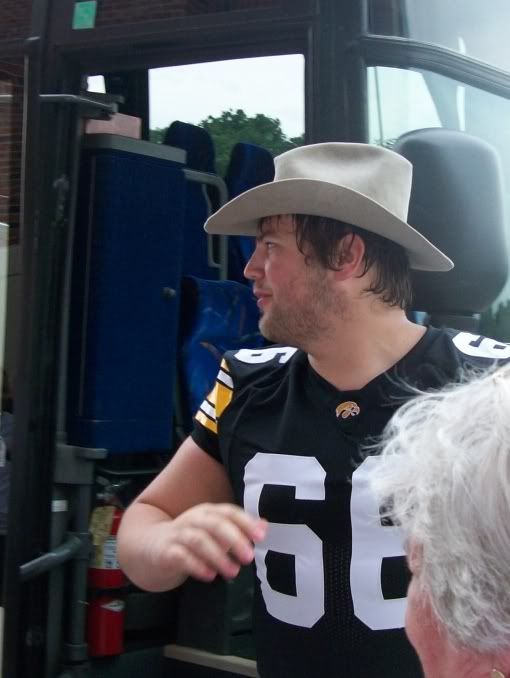 They changed into their team issued shirts and did the swarm out of the tunnel.  They did some meet and greets and then some pictures.  My wife is hilarious and had some stories to relay.
She had worn a shirt I'd given her a while back- - it's the Ferentz Is My Homeboy sendup of the Jesus IMH shirts- - but she wasn't wearing it anymore, so she tried to get a picture of James Ferentz holding it up.  Unfortunately, the camera or user messed up, so instead...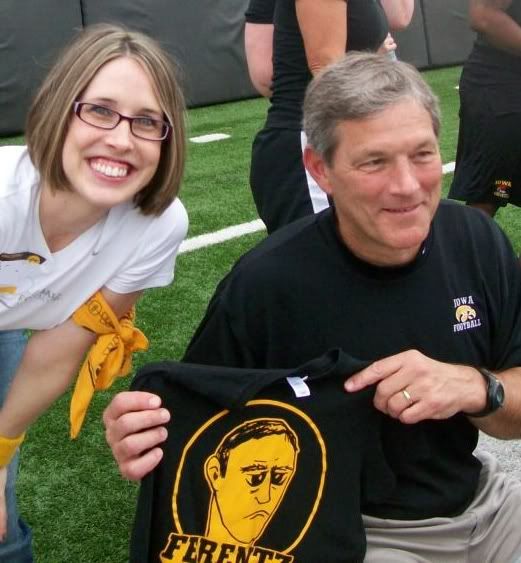 and his exact words were, "I can't believe they make shirts like this."
She reports that CJ Fiedorowicz is a beastmonster.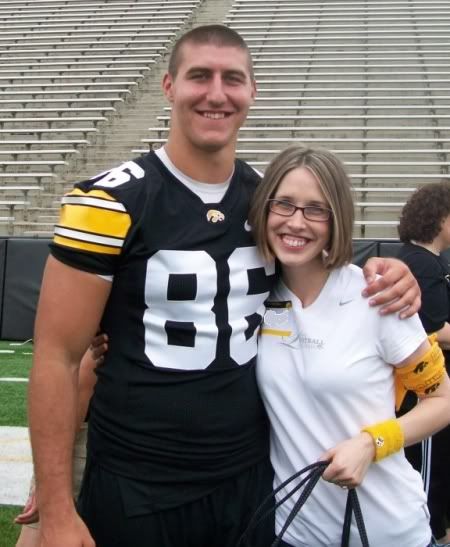 And I guess she mentioned to him that I, and others, always call him The Polish Hat, and his reply to her was "Are you Polish?"  I'm convinced that this fall CJ will make a catch and hear the announcer call his name, and I'm convinced that as he hears "Fedora-wits" he will get the joke and be highly amused.  In fact, I'm counting on it, and I'll be watching for his smile of realization.
Marvin McNutt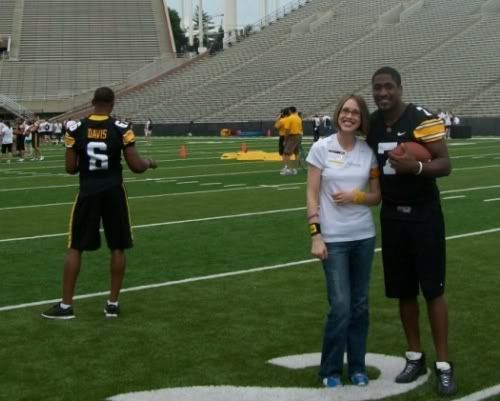 is reported to be a really personable guy
and started serenading the ladies in the tunnel, on the way to the weightroom, with a little Rihanna and "Only Girl (In The World)" [seriously, click that link].
I think I may have a new little brother.  Which, clearly, would be AWESOME.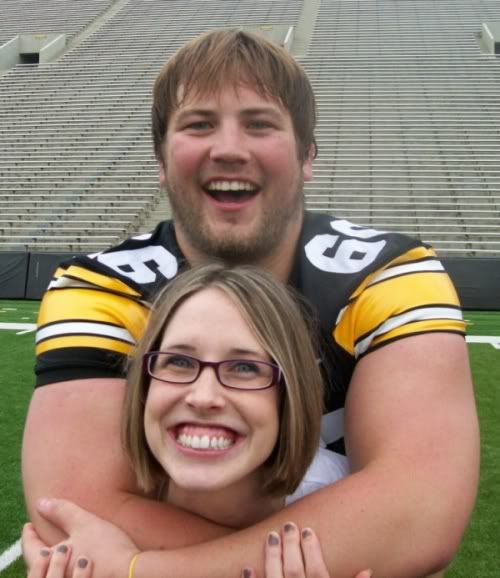 Honestly, she got her turn for a picture and she told the Man Mountain to hop on her back.  He said "I don't think so." She insisted that she was going to give him a piggy-back ride.
"I don't think that's a good idea, Miss" was his reply (I don't ask her about weight, but I'm pretty sure she's like a buck-twenty), so they compromised. 
AND Marcus Coker was giggling at Mlle. Coeur the entire time after their exchange began this way:
Marcus- "Here you go" (hands my wife and her coworker a football each for pictures)
Wife- "Does it make you nervous that we're both holding your balls?"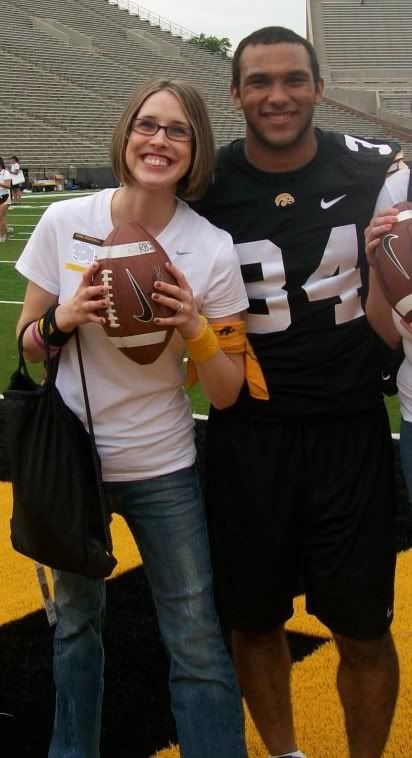 After the photo session they did some of the pre-game stretching and then broke off into small groups and did different unit stations.  They were told that Norm was watching from the press box (wink wink, nudge nudge).
They worked with Soup on routes and other receiver skills, and McNutt threw everyone some passes.  James Ferentz (and I think CJ Fiedorowicz) showed them blocking and Coker showed off the zone running.  James Morris and Big Daddy Diesel Mike Daniels demonstrated how to get off blockers.  Coach Wilson told them they were the worst ball carriers that he's ever seen.  And AJ Derby had to explain signal calling and things like the snap-count.
Later they went into the locker room and the weight room(s).  CJF threw up 300+ on the bench press, and Diesel Daniels was doing 600+ pound squats (maybe hip sled?).  And Doyle went over the technical side of what they do in the weight program.
All in all, it was reported that EVERYONE, the ladies, the players and the coaches, all seemed to be having a lot of fun with something new and light.  Even Kirk was laughing and smiling.  [There was a lot more that went on, but these were the highlights as relayed to me.]  And they raised [edit] about $150,000 for the UI Childrens' Hospital.