his absolutely had to get bumped from the diaries, because it's glorious. The image files are giant, so we can't stick them on the front page, but definitely click on Full Story; it's so worth it. --mgmt.)
So I'm in the process of moving, which above all else means that everything gets pulled out and gone through to find out what the hell I have, and then mostly thrown away in a fit of "what the fuck was I keeping this for".
In the back of my closet, there was a packing tube. A heavy one. One that was full.
Of posters.
I'm not normally one to buy or keep random posters, so I immediately went into "what the fuck" mode as I opened it up.
And then it hit me. So I went to Iowa. My brother Daryl went to Iowa. My other brother Daryl* went to Iowa. We have a lot of random Iowa stuff because of this, everything from glasses to shirts to my bumblebee overalls.
Several years ago (ummm...many years ago. Damn I'm old) the younger one was working at the IMU bookstore and towards the end of the year they were cleaning out their inventory of posters. So he took a bunch of the basketball ones for me.
That's what was in the tube. Promotional posters from the late 90s - early 2000s. It's like finding buried treasure. Except it's worth nothing and is mostly goofy looking white guys.


Incorporating computers and bball! Genius!

I just love seeing Dr. Tom as an action figure. Like he's saying, I got yer kung foo grip right here!





White guys apparently can't even pretend to dance. Who the hell thought this was a good idea?




Ahhh! It's [name redacted] (true, this is before we knew what he'd do. Back when we were full of hope for the future. That'll teach us.)





Hmmm...I'm sensing a "game" theme. (this one's my favorite. what the hell is going on? -OPS)





Look! They're turning the ball over! That seems familiar....





Yes. It is our final answer. What was the question again?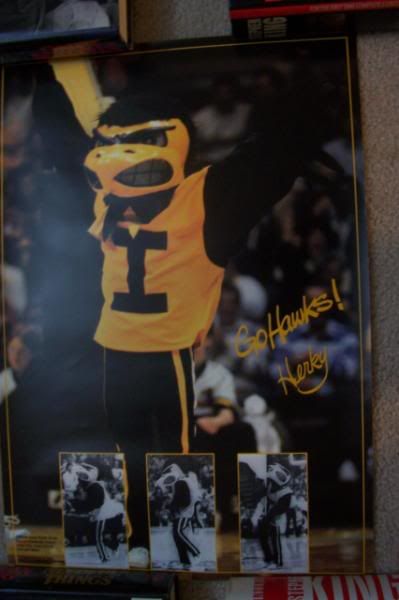 I have no idea why this was packed away. Herky needs to be framed and displayed. He must be freeeeeeeee.


And finally, this one was mine. Best road trip I ever took was with said brothers and 3 other friends heading down to the Alamo Bowl. Where we learned several important lessons.
1) Texans can't drive worth a fuck.
2) Kansas is our bitch.
3) LA QUINTAAAAAAAAAA!!!!!
4) I am not stopping unless a place advertises fireworks, booze and porn.
5) Caravans of Hawk fans freak locals out.
6) We need waffle houses up here. I'm not sure why, but we do.
Damn it was fun looking at these.
*Not their real names. But close enough.